Unless you've been living under a rock you've probably heard about the recent social media meltdown involving Scottsdale, AZ-based restaurant Amy's Baking Company. The local eatery was recently featured on Fox's Kitchen Nightmares where they were not presented in the "best light" when dealing with celebrity chef Gordon Ramsay.
The episode is pure comedy gold and like a train wreck, it's almost impossible to look away. You can view the episode online via YouTube in two parts, here and here. It's certainly worth your time if you need a 44-minute distraction from your day or just want to "feel good" about yourself.
In a nutshell, the owners of Amy's, Amy and Samy Bouzaglo, didn't make a great impression and were ruthlessly mocked first on Reddit and then directly on their Facebook page. Unfortunately, the owners responded, repeatedly, with comments and commentary that could only be viewed as "bat shit crazy." That only fueled the haters and things quickly spun out of control. Check out the page yourself: pure, comedy, gold.
Just a couple of hours ago the Bouzaglos released a Facebook statement saying that their SMO accounts have been HACKED and that they would "never" say such hurtful things. This declaration however don't seem to be hitting any sympathetic notes based on past behavior and their documented TV interactions.
Most people have covered the Facebook updates but the BEST venom spewed by social users by far, have occurred on Amy's Yelp account over the last week. There are dozens to choose from but here are the Five Most Hilarious Amy's Baking Company Yelp Reviews that made me spit out my Rum and Coke earlier this evening:
Hilarious Yelp Review #1 – Amy's Apparently Engages in "Repackaging." Who Knew?

Now, I don't know about you, but I take my cheddar biscuits VERY seriously. So this is personally very disturbing to me. I consider this a public service announcement that ranks right up there with Tornado warnings! Not kidding.
Hilarious Yelp Review #2 – Amy's is run by Mobsters who HATE Sluts, Cats and…Dolphins?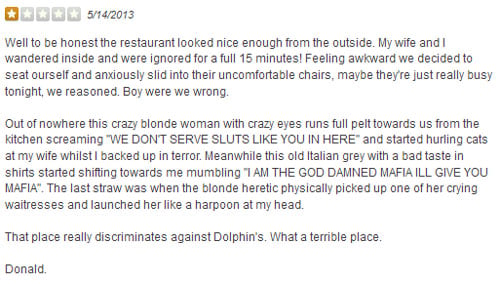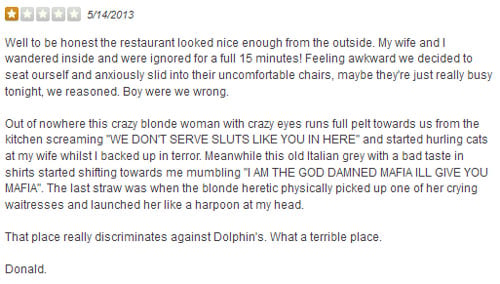 David's got a great point here. I mean sure, I can see how you can hate sluts and cats…but dolphins? That's just crazy. This is a clear cry for help from the owners. On the plus side, witnesses say Amy Bouzaglo was spot-on with the waitress tossing and is already fielding inquiries from the Florida Marlins as a way to boost attendance.
Hilarious Yelp Review #3 – Amy's Wastes Food but Likes Classic 80's Dance Moves!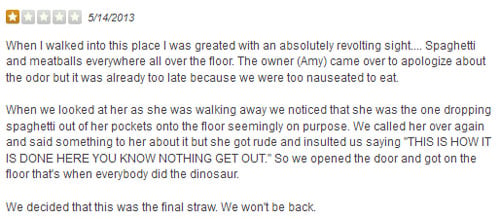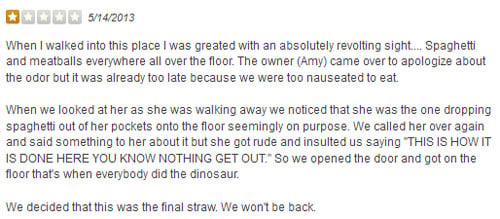 First off, I loved "Walk the Dinosaur". George Clinton was the man, nuff said! So props to Amy's for their retro attitude. However, I ABHOR wasting food. The only good place for spaghetti and meatballs is in my belly. Final straw indeed.
Hilarious Yelp Review #4 – Unhygienic Man Apes work the Kitchen at Amy's.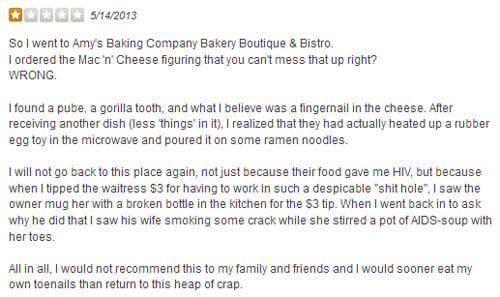 Personally I'm very equal-opportunity when it comes to having man apes in the kitchen. I bet they go through a TON of hair nets though. The fingernail and tooth though is a little much. Sounds like they would probably lose their "A" quality rating, at least here in San Diego. Maybe standards are a little less exacting in Scottsdale?
Hilarious Yelp Review #5 – Don't Order the Pizza. It will LITERALLY kill you!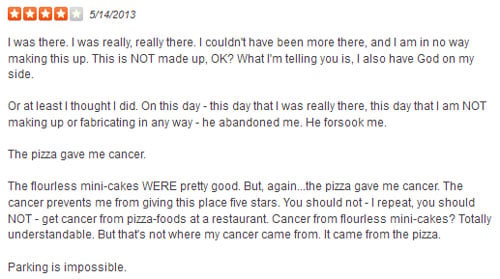 You know what I don't want as an after-effect of my pizza? Cancer! Ouch. Poor Amy's can't even get its staple pizza right. Now the reviewer didn't elaborate on what kind of cancer he did get but if I had to choose which to correct, the carcinogens in their pizza crust or their parking…I'm probably going with the pizza crust. But it would be close.
Now, it goes without saying that some (okay probably all) of these reviews are most likely fabricated. But then again…do you REALLY want to risk eating that pizza or having a man-ape serve you your food? Let us know in the comments below.